The First Capitol Detachment of the Marine Corps League is based in York, PA.  We are a unit of a national veterans service organization first chartered in 1937.  We have supported our Marines and accompanying Naval personnel, their families, and our local community since our local incorporation in 1982. We invite you to our meetings on the 2nd Wednesday of each month at Shiloh American Legion Post #791 at 1490 Poplars Road, York (beginning at 7:30 pm).
Our next meeting is scheduled for Wednesday, June 14.  You may access the meeting room directly from the upper parking lot.
For the latest on current activities, visit our Facebook page and download our latest newsletter.
Thank you for visiting us!
We are pleased to recognize cadets of the MCJROTC at Dallastown HS
and the US Army JROTC at William Penn HS
Our 2023 Rifle Match is Complete - see participants here
Congratulations to our own Carol McIntosh, selected as the
Associate of the Year for the Northeast Division - the first such award!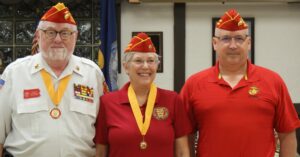 Presented at the April 2023 meeting by Dave Brady (NE MOY 2019)
and Detachment Commandant Todd Hyson